WARNING! Aluminum Uppers
FAL

SAFETY NOTICE - SAFETY NOTICE - SAFETY NOTICE

Dear valued customers and shooting public:

This notice is to inform you of the potential hazard of using a .308 / 7.62mm caliber FAL receiver fabricated out of aluminum. Some of you have called and asked us to provide barrel and headspacing services on this new Aluminum FAL type upper receiver manufactured by Williams Arms Co. Many of you had also wished to purchase our lightweight alloy components to assemble an ultra light FAL. We respectfully refused to provide you with these services. Regretfully, this has angered some of you.
The following test result, photos and data are the main reason we refused to provide these services to you.

YOUR SAFETY!! This is what happens to an FAL type upper receiver made out of 7075-T651 aluminum.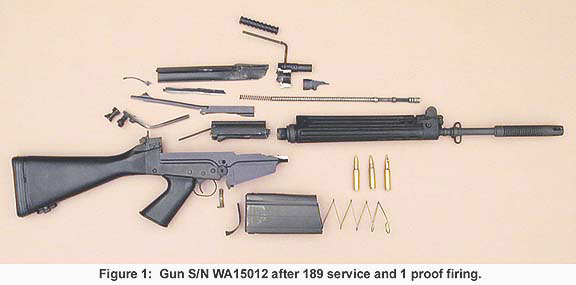 Results of H.P. White Laboratories test of a standard FAL type rifle built from a Williams Arms Co. Aluminum upper receiver.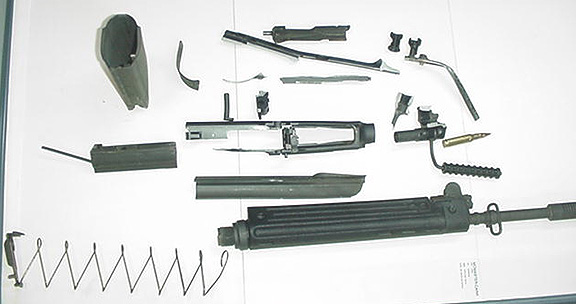 View of Williams Alumalite receiver from various angles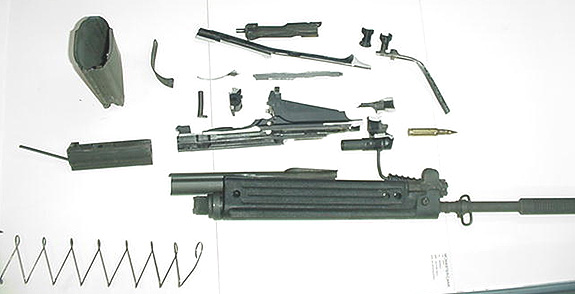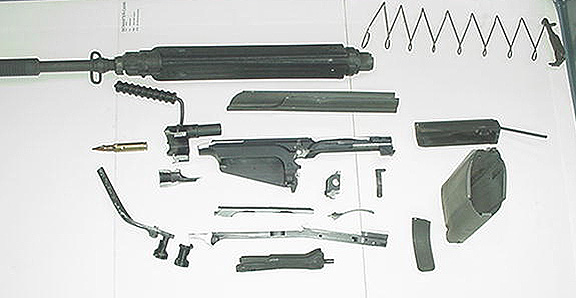 View 3 of the Williams Alumalite receiver in its various pieces. There were several pieces that were unrecoverable due to the fragmentation that took place.
On October 2, 2001 H.P. White Laboratories,Inc. of Street, Maryland performed an independent reliability-firing test of a Williams Arms Elite 7.62mm semi-auto FAL type receiver, serial number 15012. The proposed testing was to fire 1,000 rounds of service ammunition in 100 round increments with a SAAMI high pressure (proof) test round fired between each 100 round increment. Standard NATO Radway Green ammunition was used, headstamped RG-82, 83 and 84. This test mimics one that was performed on our own FAL type 7.62mm semi-auto receiver manufactured from 7075T6 aluminum.
The testing of the Williams Arms receiver was terminated after 189 service round firings and one proof firing when the receiver of the rifle was blown into a multiplicity of fragments. The receiver was measured before the first 100 rounds were fired, after the 100 service rounds and again after the proof round. The measurements indicate the headspacing progressively increased. While not conclusive, this is likely an indication of receiver distortion (stretching) which resulted in the catastrophic failure of the receiver after firing 189 service rounds and one proof round. H.P. White Labs also performed pressure and velocity tests on the ammunition. The copper unit of pressure average was 52,800. The velocity average was 2798 (ft/s).
Our company had the same test performed on our own experimental aluminum FAL type receiver, serial number DS10000EXP4 that was produced three years ago. H.P. White labs also conducted this test. Unlike the Williams Arms receiver, our receiver was not lightening cut to Type 1 depths, as the Williams Arms receiver is, but had a much greater volume of material, which should increase the strength potential. The first 100 rounds went without serious incident. The first proof round produced no overt damage to the rifle, but the case head separated. Firing of the second segment began with round 101of service ammunition. The case head again separated and the upper receiver cracked on both sides at the rear of the locking shoulder. The locking shoulder also cracked. Testing was terminated at this point.
This was the third of our receivers to fail in testing that started over three years ago. One of our aluminum receivers, which also had a much greater volume of material, lasted approximately 2,000 rounds fired through it before failure by cracking behind the locking shoulder.
Out of six that were manufactured, three were tested and all three failed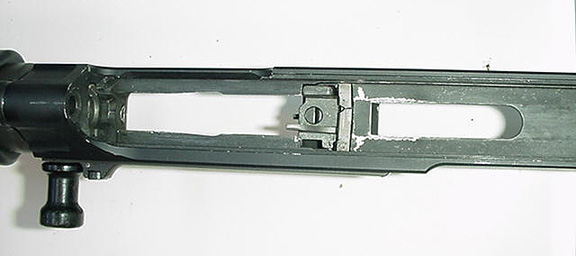 DSA, Inc. experimental aluminum receiver
Claims of 7075-T651 being stronger or more durable than 4140 alloy steel are simply false. To check, please refer to comparison charts in Machinery Handbooks accredited figures. We cannot reprint these specs without the permission of the publishers. We will not address the durability issues since strength is the issue. If you would like more information on the durability issues, please feel free to contact us.
Our legal counsel recommended that we conduct these tests in order to provide the products and services requested by our customers. This was to ensure that this new product combined with our own would be safe enough to operate and put into commerce. These tests have proven to us as well as our council that this product is not safe according to any standards. Unless further development and testing is done, we will not change our position. We will not compromise your safety on this issue for financial gain. We would welcome any additional testing, suggestions or comments concerning this issue.
Please accept our most sincere apologies for not providing services to assemble these receivers or sell components to be used with them.
Very truly yours,
Management
DSA, Inc.